The tennis prodigy, Rafael Nadal, needs no introduction. His exemplary tennis career landed him with top-notch modeling assignments (he was the ARMANI man!!). However, the recent photographs show Nadal balding. Indeed, a significant blow to his modeling career! Rumor has it that Rafa is the latest celebrity to undergo a hair transplant.
Early Career and First Grand Slam Title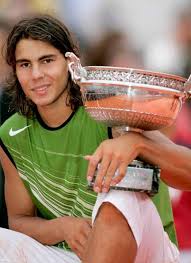 Nadal had the tennis world taken by storm at an early age. He was just 15 when he won the first Association of Tennis Professionals (ATP) match. And it was the matter of only three years that he won his first Grand Slam in 2005 French Open.
Not only did he made his mark as a Tennis sensation but he also had the heart of the female fans throbbing by his looks. He was particularly adored for his long, lush locks. A young lad with looks to kill and talent to praise, Rafa sure was an eye-candy.
In fact, his popularity reached to the extent that he replaced Cristiano Ronaldo as the brand ambassador of Emporio Armani underwear and Armani Jeans.
So, what was it that went wrong? What led to Nadal hair loss?
Rafael Nadal Hair Loss
With time though, Nadal's hair was on the skids. Definitely not fitting for modeling assignments!
Several pictures of Rafa taken in 2013, apparently depicts an advanced stage of Androgenetic Alopecia. It is male pattern baldness. And no! It is not something very uncommon. About 70% of the men population suffer from it at some point in their lifetime.
But Rafa displayed grave baldness, given that he was just 27 at the time!!
And no way that it went unnoticed!
Andy Murray, fellow tennis player (and struck by hair loss!), tweeted "who loses their hair first out of Rafa and me?" on his twitter handle.
who loses their hair first out of me and rafa?

— Andy Murray (@andy_murray) November 8, 2013
Murray's doubt was cleared by the pictures taken in 2016. The photos show Nadal suffering from significant hair loss.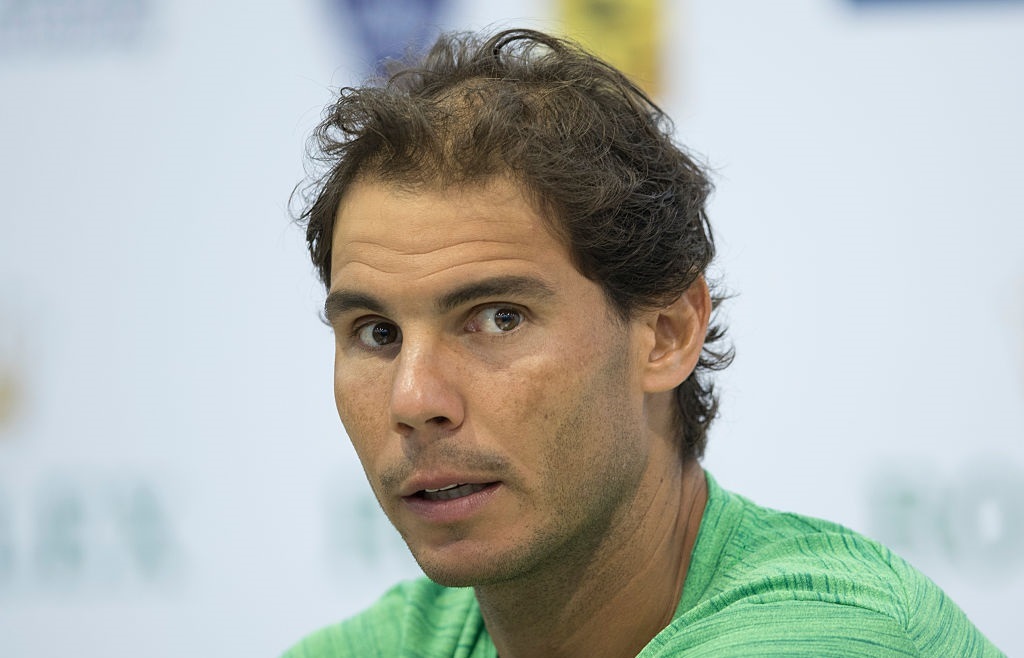 However, Rafael Nadal hair loss pattern was quite peculiar. Androgenic Alopecia facilitates the loss of hair from the crown and front areas. As the damage progresses, hair is left just on the back and sides of the scalp. Nadal, on the other hand, lost hair from the middle portion of the scalp.
And El Mundo, the Spanish newspaper, claims Nadal had a transplant to fix it.
Rafael Nadal Hair Transplant
As per the reports, Rafael underwent hair transplant procedure by the name Follicular Unit Extraction (FUE). The hair from the parts immune to Androgenic Alopecia is removed and placed in the affected regions. The report claims Nadal had 4500 follicles rearranged.
But all we can do is to wait to see the results of Nadal hair transplant!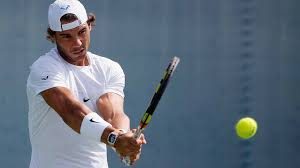 Hair transplant is a time taking process. After the implantation, the hair falls out, but the follicles remain intact. The follicles produce new strands of hair, after about two months. One has to wait for almost a year to see the desired results!!
So for the time being, get yourself used to see Nadal in head covered with caps!!